New styles and colors for 2021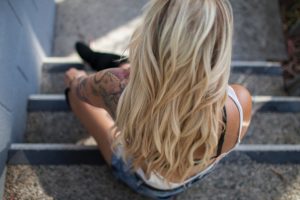 Are you one of those women who are constantly posting on Instagram to change their hairstyle or not? Go for a chop-chop, or keep it long?
As the new year has arrived, new trends are going to set from head to toe. And who doesn't want to follow the latest trend? We all want to look chic in this new era, which is the most trendy period so far.
Give your hair a nice trim, add some bangs, dye your side hair blonde, and lower portion a darker color; mix and match it all!  And voila, you are the next top model of the U.S.
Without any further ado, let's move on to the new hairstyles that are going to rock in 2021!
Trendy hairstyles in 2021
Finally, we are down from the rollercoaster of 2020. So why not start with a new hairstyle?
Many people make hairstyle a secondary choice and don't realize that it's preliminary. Some choose to change it every season, while a few go for a regular monthly trim. But do you know changing your hairstyle never depends on time? There's no time for a change.
Here are some new hairstyles that will be trending in 2021.
Hairstyles for long hair
Although long hairs are tough to manage, more effort means more results! Yes, growing long hair requires much effort as you have to take much care of them. Yet, without a doubt, you can look heavenly with long hairs. You can style them in different ways. Here are a few of them.
Straight layered cut
Sometimes long hairs may appear rough and lean, and adding some layers makes them look neat. How? By putting volume and structure to your hair. And if you want to add more details to your layered haircut, go for a balayage. It will make your layers more noticeable.
Side swept bangs
Siding your hair builds a nice texture to whatever your haircut is. Side-swept bangs feature the side of your face. Top secret. It can also hide all of your wrinkles. Wow. Bangs were the most trendy hairstyle in 2015. And it's going to repeat. In 2021, the latest trend for side-swept bangs is less likely than the old times.
Wavy long hair
The most attractive and glamorous hair type in long hair is wavy. A survey found out that men find long wavy hair the sexiest of all! Many stylists add layers to long wavy hairs as it adds more volume. For a more chic look, opt for cream highlights in the waves. Moreover, long wavy hair was trendy in 2020, probably going to be on the no. 1 trend in 2021.
Hairstyles for short hair
Long hair is pretty good, but we all agree that short hair was trending in 2020. A short bob can give you the dramatic transformation you are waiting for. But keep in mind, few short hairstyles can go to the extreme. A friendly reminder!
Here are some of not so extreme yet cool short hairstyles you can rock with:
Wavy bob 
Wavy bobs, an evergreen hairstyle, are in style for so long. Some hairstylists add highlights at the end to make the waves more specific. A wavy bob can give your hair stiffness, and volume can not be done so accurately by any other hairstyle. Silver bob haircut is the most trendy in 2021.
Tomboy cut 
The feminine look with a tomboy haircut! What can be more beautiful than this? It is the most manageable haircut so far. If you have darker hair, add some blonde highlights, and you are dope.
Pixie cut
It is a kind of hairdo that is multiplayer and pretty. You can add a bit of craziness by coloring your pixie hot pink.
Hairstyles for mid-length hair
Mid-length hairstyles are for people who need a balanced length. Not so long, and not so short. It covers all your needs and still looks vogue. Ladies who are confused about their haircut, which one to go for? Long hair. Or short hair. Mid-length hair is your on-the-go hairstyle.
Long bob
Do you want to get a bob? But don't want to cut it all? You can get a long bob. Some people also call it Lob. Cool, no? It's not only named cool, but it also does look cool! The standard length makes the hair from the end look equal and impressive. You can also style it up in a ponytail as it is above your collarbone.
Pin straight cuts
The most basic cut for straight hair is straight pin cuts. Its length is just a bit down from your shoulder and looks so basic and orderly.
Fringe bangs
Most classy one on the list! These bangs add a round shape to your face. So if you have an oval face, this one's for you. Blonde highlights on any dark color with blunt mid-length fringe bangs look breathtaking!
Hair colors
Adding a pigmentation in hair makes them look more attractive and textured. Women love changing their hair color as they make their hair more noticeable and detailed. From bold to soft, hair colors are found in variety.
Balayage and highlights
The difference between balayage and highlights is just like natural and artificial.
Highlights bring more texture and lift the level of your hair. It highlights the hair where needed. Here are the famous forms of highlights.
-Babylights create a fine effect in the hair. The subtle white highlights give a natural effect. It looks exactly like the virgin hair which appears in summer.
-Full highlights cover all your hairs, it is painted very professionally and gives basic, but a whole look.
–Partial highlights do not cover the whole head but few hair parts with the head cap's help. It is more affordable than the full highlights. It also brightens up specific sections of your hair.
Balayage is done freehanded without any tricks and techniques. The color is freely painted on the head. And the hair itself decides which is the best place for the settling of shade. It seems more natural than highlights and is also less time taking than highlights. Women do various balayage according to their natural hair type.
-Blonde balayage
In this technique, the above-sectioned hair is painted blonde. Blonde gives amazing outcomes with a dark tone. It brightens up the hair, and when blended, it gives an incredibly genuine look.
-Ombre balayage
Ombre moves hues of colors, blending color into another.
It is more in style than a basic balayage. And the fun fact is, it doesn't damage your hair. Your hair will be fine even after the ombre wanes.
Celebrity inspirations
How can hairstyles make much difference in a person? Here are some celebrity inspirations for 2021.
Whenever the name of the bold roots come, who jumps up in your mind? Dua lipa! Of course! Dua Lipa's trend has created such hype that every other girl on Tiktok has started doing it with several colors. Bold roots and textured bob is the best combo of 2021. Hair colors certainly change your face structure too. Unbelievable? Go for bold trend roots, and then argue!
The famous comedian Tiffany Haddish got bald last summer. She shaved her entire head, and no doubt, the result was pretty awesome.
Final word
Your hair can change you into another personality. Yes! Hairstyles can bring glow into your life. We have seen much fun with hair in 2020 and probably will see it in 2021. New year, new beginnings, and of course, new hairs!
www.roysalon.com 3 locations in Northern Va. Fairfax, Fair Lakes and Burke Va.