Top Salon Voted by Northern Va. Magazine
Are you bored of your current hair color? Do you want to try out a new look? Well, you've come to the right place. Here we are going to answer your questions about changing your hair color. From brunette to blonde, or even the latest silver grey hair trend, we've got you covered.
Our highly trained team have a perfect understanding of hair color and balayage techniques and how your hair will respond to color.  But before you try out this new you, consider the upkeep required for your new hair color and think about if it will suit you. Book in for a hair color consultation with our professionals by calling us on the links below:
Going From Brunette to Blonde
Transforming your hair color into the new you isn't going to happen overnight, especially when you're going from brunette to blonde.
It may take two or more hair appointments to achieve the look that you want. Also, to achieve the blonde that you want we will need to pre-lighten your hair before applying your desired blonde shade.
But don't worry, our color specialists will assess the condition of your hair before deciding the best way to proceed to achieve the new you.
Changing Your Hair Color From Blonde to Red or Brunette
If your hair has been bleached blonde before we may need to pre-treat your hair with a deep conditioning treatment or B3 to make sure that it's in good condition to allow for further coloring.
To make sure that we achieve the look that you are going for, we may suggest a gradual hair color change so that you can decide the shade that you think suits you.
We can do this by adding in some luscious low lights or a beautiful balayage look before transforming your hair color from blonde to red or brunette or another color of your choice.
Fashion Hair Color Transformations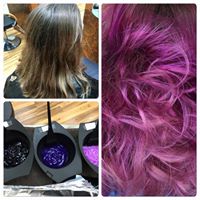 Major hair color transformations will take longer to achieve than your usual hair coloring appointment time.
But, the health of your hair is of the utmost importance to us and we will be completely honest with you about how long it will take and what we can do to achieve the look that you want.
Fashion colors are all the rage right now but be aware that the color intensity will depend on the base color and underlying pigment of your hair.
For example, very blonde or white hair will show magenta much more vibrantly than if that color were applied to darker hair.
Book a Hair Color Appointment at Reflections of You Salons/ W Salon Today.
Book in for your new look now, the benefits are endless – you'll be left feeling FRESH, fierce and fabulous. Book your hair color appointment at one of links above or calling.
Fairfax 703.591.5306                                 Fair Lakes 703.272.8181                            Burke 703.250.0800